I think walking around a familiar place by yourself with the sole purpose of taking pictures is one of the most worthwhile things you can do with a few free hours on the right kind of day. It doesn't matter if you don't get any fabulous shots – it's just fun to walk around looking at everything as a potential photograph, and it gives you a chance to take another look at stuff you've been staring dully at and not really noticing for a long time. I'd been meaning to do it with Vladivostok for a long time (since September or so), but hadn't yet. Sunday was a nice warm, sunny day, so I finally did. Here's what came of it.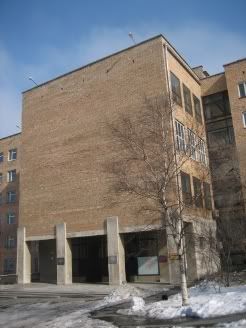 DVGU's humanities building, home of my place of work (note: I use that term loosely), the Institute of Foreign Languages.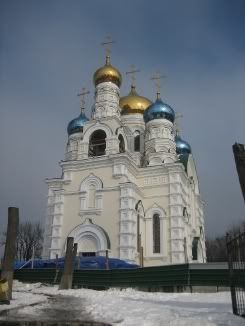 The Orthodox church being built at Pokrovskii Park, across the street from DVGU. When I got here in September, the domes were still on the ground (they're HUGE when you see them from that perspective) and the red brick the church is built from wasn't plastered and painted yet. Sometime in October, they blessed the site with holy water. There was even a parade with monks! I didn't take pictures, though, and
I think you can guess why
.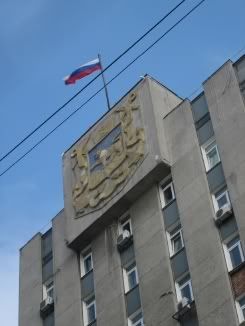 Vladivostok's administration building, which is ugly but features our coat of arms – a Siberian tiger climbing a hill. Note the hammer and sickle as well.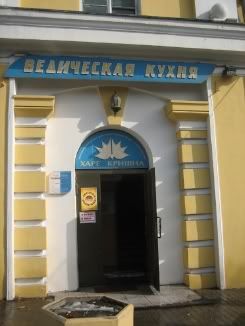 The Hare Krishna café! It smelled so good, I almost bought a pirozhok even though I had just had lunch.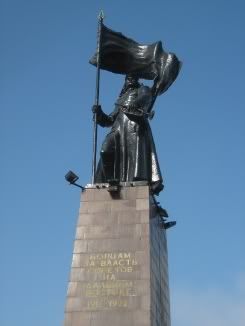 The statue on our Central Square. I like it better viewed from the back, which is how I usually see it (walking down Okeanskii Prospekt, "Ocean Avenue"), because he looks a lot more like he's dancing and wearing a dress. It says, "In honor of those who struggled for Soviet power in the Far East, 1917-1922." There's quite a bit of Vladivostok history that has to do with the civil war after the revolution, but I don't know much of it. I think it was the last White Army holdout, or something like that.
The train station. I wish I knew more about it – I just know vaguely that it's a Vladivostok landmark, but I'm not sure if it's old or new or what. It's very pretty, at any rate. I couldn't get the whole thing in the picture, though, because there's a busy bus stop in front of it and buses kept coming barreling toward me.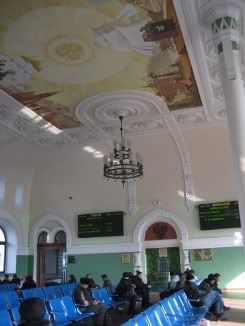 Today was my first time inside the train station, and I completely fell in love with it. It's the warmest, coziest, cleanest-looking public building I've ever been in in Russia.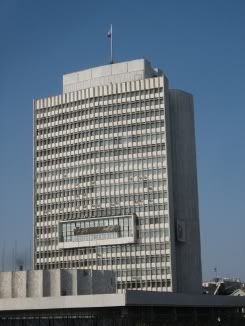 Our Krai (literally "borderland," really more like "region") administration building, which is big and ugly and white, and therefore called the Wisdom Tooth.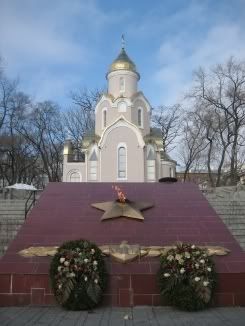 I read somewhere that "compared to the Russians, we [Americans] have completely forgotten World War II." I'd agree, I guess – it's so much more a part of Russian consciousness than it is American (if you need proof of this, visit Victory Park in Moscow... it's amazing) – but I think it kind of makes sense, considering how much they lost, and the fact that it actually happened on their soil. Anyway, this is Vladivostok's eternal flame commemorating WWII. Every city I've been to has one. That disc on top is a big navy hat.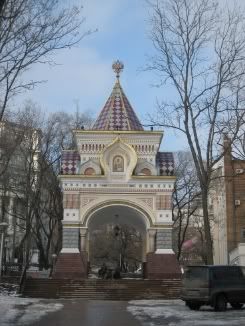 One of my favorite Vladivostok landmarks. This is an arch built in the 1890's to commemorate a visit by then-Tsarevich Nikolai II, who stopped by to celebrate the completion of the Trans-Siberian Railroad. It was unceremoniously destroyed by the Soviets and only rebuilt a few years ago. It's not my favorite because I think it's pretty – actually, I think it looks a little too much like a giant toy – but because it's a quaint reminder of what a frontier outpost Vladivostok has been for most of its history. I mean, the future Tsar came by, and they got SO excited about it that they built a huge, ridiculous ceremonial arch. There was clearly not a lot going on here back in the 1890's. (I guess not that much has changed – Putin was here right before I got back, and they made quite a big deal of that, too. Unfortunately, as far as I've noticed, no arch has been constructed commemorating the event. But now that I think about it, it led the governor to promise a new nuclear power plant in Arsenyev, which is kind of the same thing.)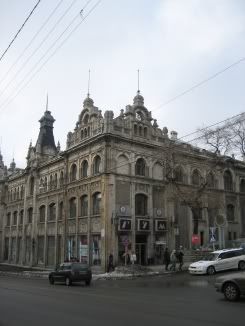 Our GUM (pronounced "goom;" it stands for State General Store, and was a fixture of Soviet cities). Speaking as someone who knows absolutely nothing about architecture, I think it looks really German. And it actually is German, having been built by a pair of German merchants in the 1800's, who were quite the businessmen of their day and even contributed funds to the building of the Oriental Institute, the precursor to DVGU. Another interesting note: Vladivostok has two GUMs, a Men's GUM and a Women's GUM. (This is the Men's one. The Women's one is ugly and Soviet.) The names persist even though the segregation of men's wares and women's/children's wares stopped quite some time ago, possibly when they stopped actually being state-run general stores.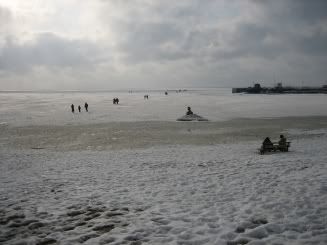 On the Набережная/Náberezhnaya (literally 'embankment,' probably best translated as 'boardwalk' in this case). The mermaid statue (a la Copenhagen) is in the water, although that's not immediately obvious in this picture. I wanted to walk on the ice, but Laura (who by this point had joined me for some quality boardwalk-strolling) seemed less than excited about risking it on such a warm day, so we didn't.