Because I love you and because I have enough internet time left, I'll post my Pskov pictures (totalling three, because I was conserving my camera's battery, because my battery charger, like many of my important belongings, was in Vladivostok while I was at home/in Western Russia).
(See post below for the full report on the trip.)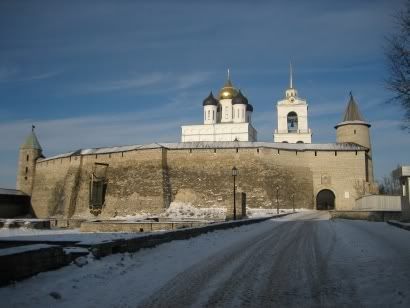 Outside the kremlin. I bet you thought only Moscow had a Kremlin, right? Wrong! A kremlin is a walled citadel, and most old Russian cities have one. It usually houses a church and some other important buildings. If you look closely, you can see the enormous sword hanging from the wall in front of a big metal shield with Pskov's coat of arms on it (which you probably can't see). Unfortunately, I don't know what the story is behind the sword, except that it possibly commemorates Aleksandr Nevsky's defeat of someone or other near Pskov.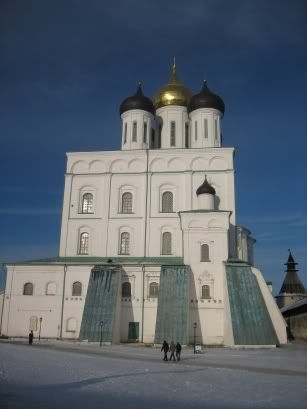 The church. This church was beautiful inside: unlike many Orthodox churches, it wasn't covered floor-to-ceiling in icons and paintings, so the top 3/4 of the tall walls and pillars were just white. Combined with the sunshine streaming in the high windows, it gave the church a much brighter, less ponderous feel than most I've been in.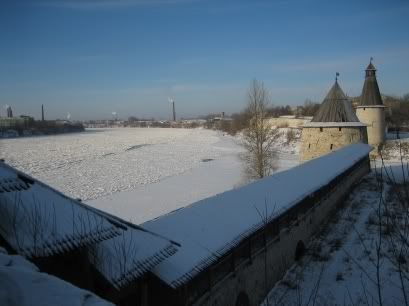 We climbed down the stairs to this wall (difficult with the ice and my crutch) and walked out to the tower. The two towers stand at the confluence of the Pskova and Velikii (Great) Rivers, and between them there was an underwater gate that could be raised to stop invaders from traveling up the river!