A datsan (dot-SAHN) is a Buddhist monastery. Since Buddhism has long been the religion of the Buryat people (although it wasn't their first religion – see Ulan Ude post below), Ulan Ude boasts the largest datsan in Russia. Besides being a religious center, it's a rather popular tourist attraction (like many Orthodox monasteries), and our beloved host Larissa Petrovna made sure to arrange a trip there for us, which I greatly enjoyed. A photo diary:
Judy, my co-worker, spinning the prayer wheel. Prayer wheels are used for (what else?) meditative prayer, and it is said that one spin of the wheel relieves you of one sin. I spun many of the wheels at the monastery – small ones lined up in a row, big ones that were so heavy they had iron handles attached for ease of spinning, drab ones and colorful ones. Hopefully I took care of a lot of sins that way. It's common to find kopeck coins left by the prayer wheels as offerings to the gods.
In fact, there were kopecks almost everywhere at the monastery, especially inside the shrines. There were other gifts left, too – most commonly bags of rice and open boxes of milk, and most amusingly a bottle of dish soap (I guess the gods have dirty dishes too).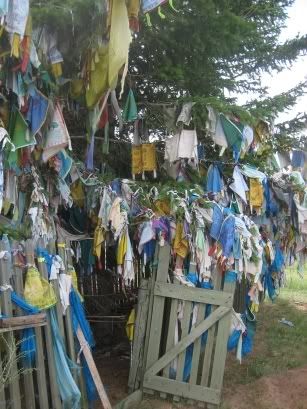 Lots and lots of the trees at the monastery had these prayer cloths tied to them. There are different colored cloths for different prayers (health, happiness, etc.). The trees outside the huts of the monks who were renowned healers had the most cloths on them.
A close-up of a prayer wheel, with prayer cloths tied to it.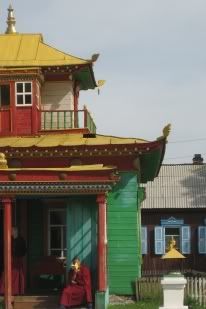 Ok, I'm ready to admit that I have a little monk/nun obsession. I blame it on that nun who yelled at me last August in Novodevichy convent. Anyway, here is a Buddhist monk doing his morning reading.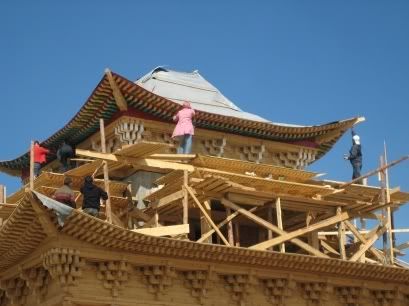 Like most religion in Russia, Buddhism is still in the comeback phase after the Fall – gaining support and money, expanding and rebuilding what was lost. Nowhere was this more evident than at the datsan, where several new buildings were going up, including structures for the new Buddhist university (yes, really). Judy (the co-worker in the first picture), who comes from a family in the construction business and has a civil engineer for a daughter, looked up at these roof painters and said, "I think OSHA would have something to say about that!"
One of the many shrines on the territory of the datsan. I am a fan of Buddhist shrines because unlike Orthodox churches, I don't have to cover my hair to go in. In one of the shrines, you could pay a donation to have your name or the names of your friends read by the monks in prayer. "Everything for a price!" as Grisha, our driver/guide, said. But it seems to me that Christians do practically the same thing.
There are apparently deer on top of this shrine because the deer came flocking to Buddha after he was enlightened. There were also two holy deer in a cage outside the shrine.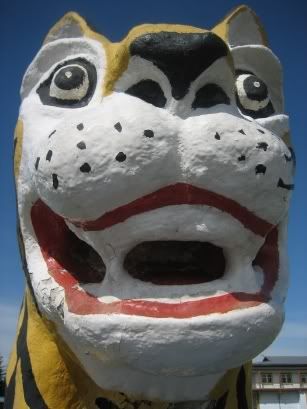 Grr, I'm a tiger! I thought this thing (whatever it is) was very cute.
Close-up of the beautiful colors used in Buddhist religious art. Notice especially the frequent use of many different shades of one color close together.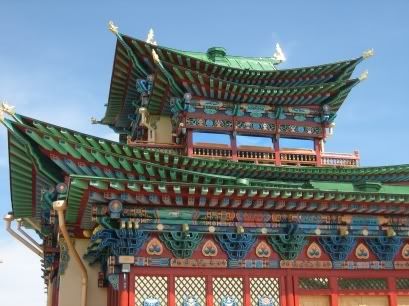 The most impressive shrine. This is where a Buddhist monk who was buried alive in the 1920's is housed. He was buried alive because he felt he had achieved nirvana and was ready to be done living, and he left instructions that he should be dug up again after a certain period of time. They did so, and found that he's still alive. Or at least that's what the Russians told us, though different people had different conceptions of what "still alive" means, from "still warm" to "not completely decayed." You can only see him on special occasions, and I didn't meet anyone who had actually seen him. Needless to say, I'm a mite skeptical.
So! That's the datsan. I highly recommend visiting it if you go to Ulan Ude. More pictures (the city itself, Baikal, maybe Irkutsk) to come later! And don't miss the post below this one, which is also new!