In addition to walking me to the tram stop after my Tuesday lesson - we had black ice, and with my less-than-perfect post-knee surgery balance (which may or may not be all in my head) and a fear of falling instilled by numerous painful spills on Vladivostok's slippery hills last winter, I'm pretty tottery on ice – Mikhail Semyonovich gave me a copy of an mp3 anthology of balalaika music compiled by some French balalaika enthusiast. Well, he gave me volume one, anyway, which is over sixty hours of recordings spanning from Vasily Andreev, the late-19th century father of the modern balalaika, to the best examples of the contemporary school of balalaika (including my teacher's teacher and two of his students!).
Besides enjoying listening to all this music, I'm getting a huge kick out of the jpegs of record and cd covers that are included with the anthology. Many of them are shining examples of Soviet graphic design (which I love):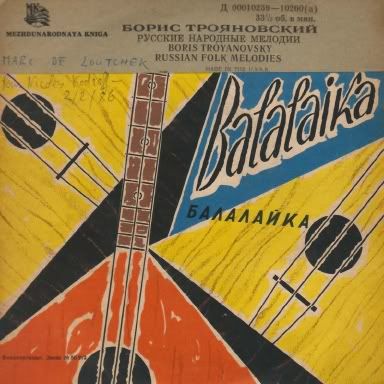 And then there's a whole genre of balalaika-player-superimposed-on-Russian-scene: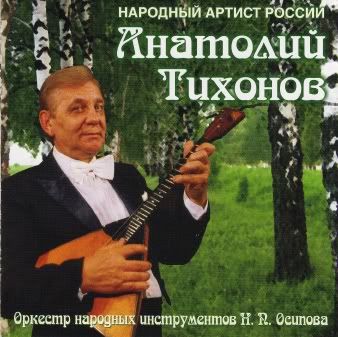 Plus one where the balalaika player is actually standing in the Russian scene:
I am really digging the contrast between Mr. Necheporenko's stern demeanor and the flowing pink script in which his name is written.
And then the many that were clearly designed by musicians, not graphic designers:
(Ok... uh... grab your balalaika... and... uh... stand... uh... oh, here's a nice-looking column. Yeah... stand here. No, a little to the right. Ok, ready? Smile! No... wait... maybe you should look a little more serious. Um... ok. Yeah. Yeah, that's good. One, two... three! Hmm. Do you think we need to take another shot? Probably not, eh?)
There are bad costumes: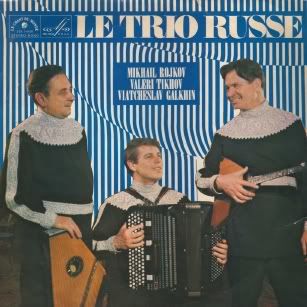 (Le Trio Star Treque?)
Russian folk costumes galore: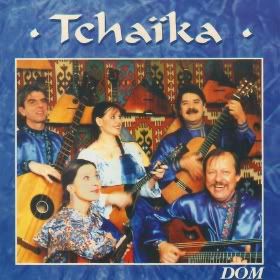 And finally, two of my favorites, both non-Russians: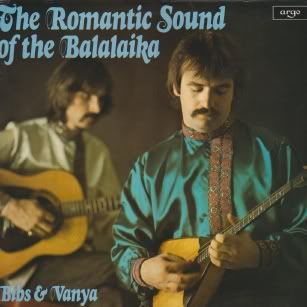 When I make it big, I can *only hope* that my group has a name as awesome as "Bibs and Vanya."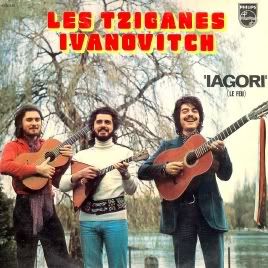 ... And that I have a style consultant as skilled as Petro Ivanovitch's of "The Ivanovitch Gypsies."
Sadly, Petro ended up with a receding hairline; on the bright side, he got a solo album: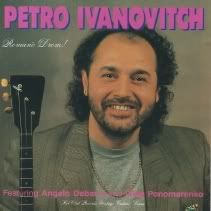 And this is only the "Balalaika" folder – I haven't even uploaded "Domra" (a related Russian folk instrument) or "Ensembles." And there are three more volumes after this one!