Now that the weather is nice, I walk either to the university or back home at least once a day instead of taking the bus. It's pretty far away – about 45 minutes on foot if I'm walking briskly – but it's a pleasant walk down (and up, and down, and up again) two of Vladivostok's main streets, Svetlanskaya Street and Okeanskii Prospekt. The latter we've already seen in one of my other picture posts, so today I'll tell you about Svetlanskaya.
Svetlanskaya runs the length of the Golden Horn Bay, where most of Vlad's port activity is, about two blocks uphill from the shoreline. In the course of my walking down it every day, I've become fascinated with the street – particularly the side of the street nearer the bay, which is dotted with a series of old two- and three-story houses that appear to belong almost exclusively to the Pacific Fleet of the Russian Navy. Even those among these houses that haven't been renovated and are kind of junky are sort of charming – looking at them always makes me imagine Ye Olde Vladivostok, with horse-drawn carriages rolling sedately down quiet, dusty streets. Incidentally, this is one thing that I have unexpectedly come to really like about the city – unlike Western Russia with its ancient kremlins and onion domes (which obviously have their own value), Vladivostok has a short history as a frontier outpost, and the concept of the past here is connected mostly with the latter half of the 19th century. In that way it's similar in feel to many American cities, since that was (if I'm not mistaken) a period of urbanization when a lot of our urban landscape was built.
Contrary to what you'd expect for what's practically the center of town, the bay side of Svetlanskaya isn't entirely taken up with a solid block of buildings. The buildings that are there have yards, and parts of the slope are clear enough that you can actually see down to the bay. I haven't exactly figured out why that is, but my hypothesis is that it has to do with all the property on that side of the street that doesn't belong to the Navy belonging to the shipyards. In fact, the big shipyard, Dal'zavod, is only about a block away from my apartment. There are also several naval monuments along Svetlanskaya, one of which I'm almost sure appeared sometime between November and February while I wasn't here. Anyway, I humbly present to you my pictures: Svetlanskaya (the not-quite-downtown edition).
Starting near the center of the city: this is a little park where Pushkinskaya (the street I technically live on, and also a very old one for Vladivostok) breaks off from Svetlanskaya and climbs up the hill.
1.This monument is too worn for me to read, but it says something about 1905.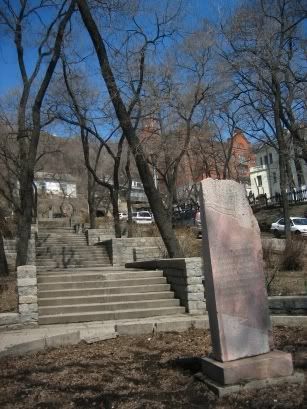 2.What's a Russian city without a bust of Pushkin, even if you're 5000 miles away from anywhere Pushkin ever lived?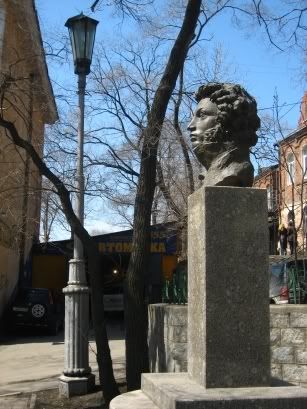 3.Looking down the slope at Svetlanskaya, the Navy memorial, and the bay beyond.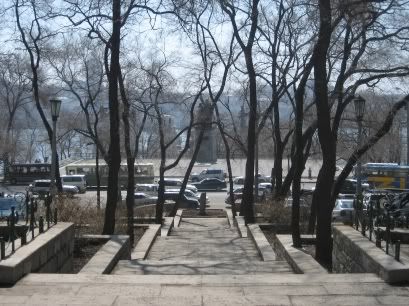 4.Next to the park is this fabulous old mansion that I'm completely in love with. According to the sign by the door, it houses Vladivostok's School for the Arts.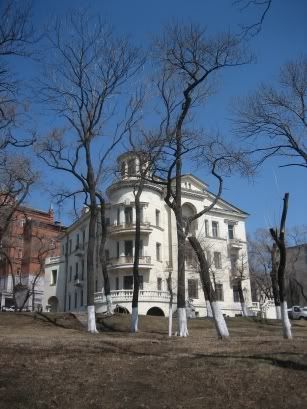 5.This is not technically Svetlanskaya, but this little house strikes me as very quaint.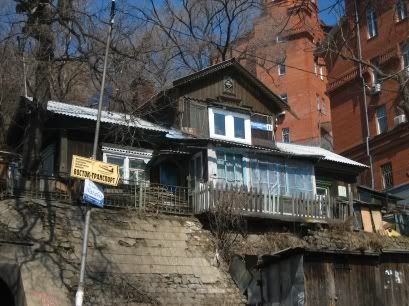 6.And next to the mansion that's next to the park, we have a little Orthodox church that's being renovated. Notice the bells, which make me very happy when they're being rung by priests (monks?) in long black robes. And the banner: Christ is Risen!
7.The first of the naval monuments. This one is to the ships of the merchant fleet that were damaged/sunk/engaged in battle in WWII.
8.Not far down the street from the park is the Sailor's Club. The club itself is an ugly little Soviet building (contrast with the Officers' Club, which is an ugly big Soviet building), but it's set back and downhill from the street, and in its courtyard are all sorts of interesting things, like this colorful closed-down bar:
9.And this very melancholy monument to the crew of the ship Kreiserok, all of whom perished in 1889 (under what circumstances I don't know):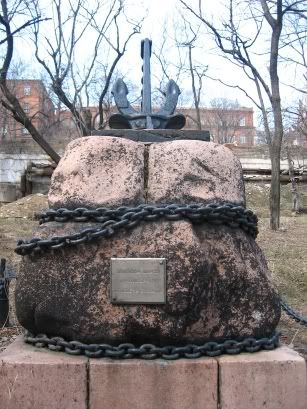 10.And a blacksmith shop. I tried to take a picture of the yard of the shop itself, which was quite interesting, but the blacksmiths were gawking at me and I chickened out.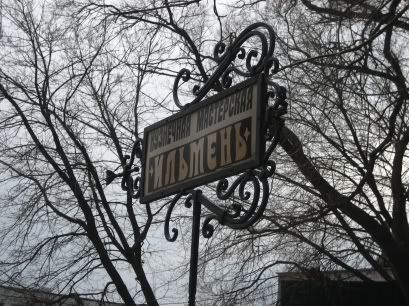 11.Next to the Sailor's Club is the monument that I'm pretty sure is new. It's dedicated to the memory of the sailors who fought in the Russo-Japanese War.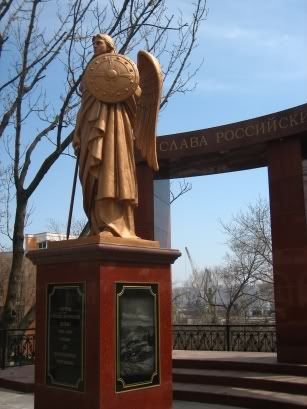 12.Down the street from that is one of the lovely old buildings I was mentioning. I didn't get many good photos of these, but hopefully you can get an idea.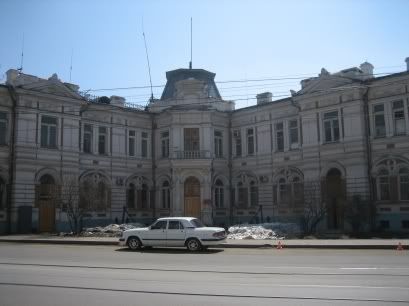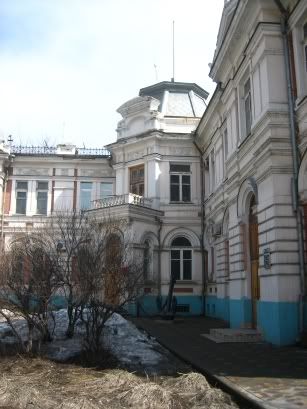 13.Across the street is Vladivostok's circus building, just called "Цирк/Cirque" as far as I know. It's a triumph of Soviet hideousness.
14.One of the other old Navy buildings apparently belongs to the Hydrographic Service, or at least has a monument to them.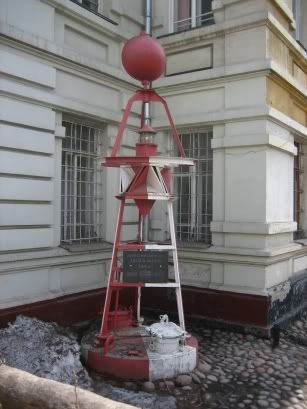 15.It also has a cool star on it.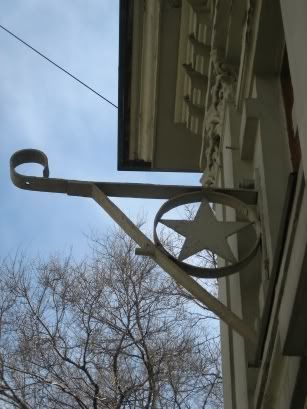 16.And here are several views of the Navy building nearest my apartment, which actually houses a Navy-run kindergarten. If you look at the third one and can make out the Cyrillic, you can see what Svetlanskaya was called during the Soviet years. And you'll get a gold star from me for the effort.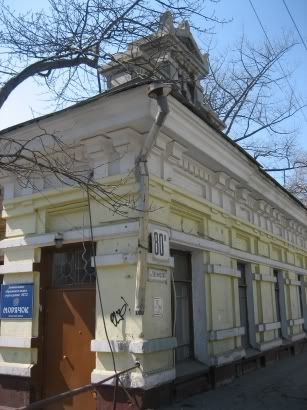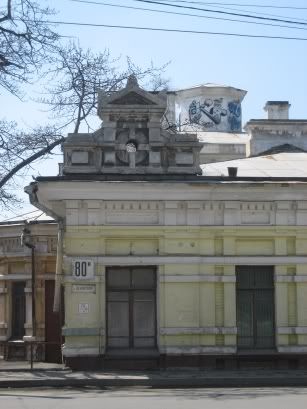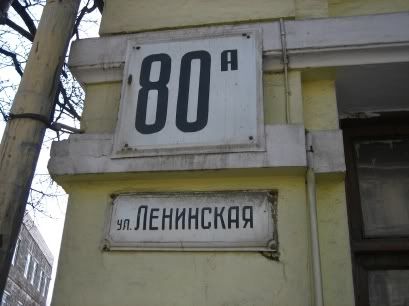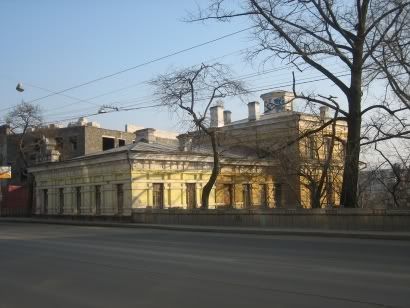 17.Finally, Dal'zavod and Dal'zavodskaya street! This is a short street that breaks off of Svetlanskaya. First, the factory façade, which is so many kinds of retro it boggles my mind: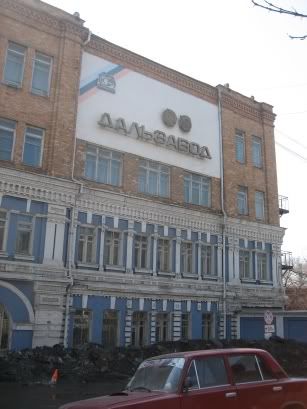 18.A memorial (also retro-looking, although it was built in 2005) commemorating Dal'zavod workers (I assume) who served/worked/showed heroism in WWII.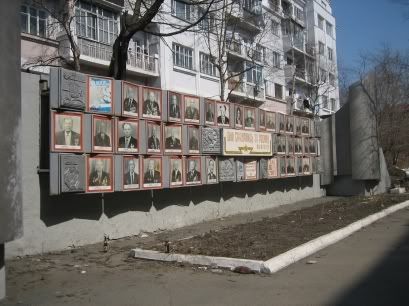 19.A view down the street, which is one of the only quiet, tree-lined ones I've found here. It's also permanently waterlogged, and I'm not sure why.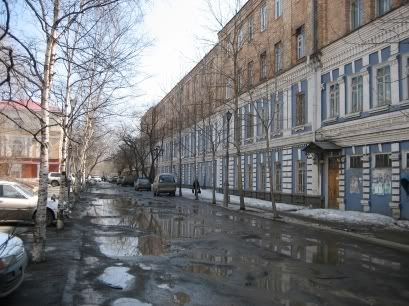 Ok, that's all for now! Hope everyone's having a good day!