Sadly, we've come to the end of the Moscow pictures. But on my list of goals for October is a photo tour of Vladivostok, so hopefully I'll be getting out with my camera for a few hours one of these days and can show you the results.
Anyway, these pictures are from when four of us went to VVTs (ВВЦ – Всероссийский Выставкий(?) Центр), the All-Russia Exhibition Center. VVTs is basically a huge fairground. It was built in Soviet times, and it consists of a big midway that's surrounded by seventy 'pavilions' (they looked more like 'buildings' to me) that represent all the ethnicities and nationalities of the Soviet Union. So there's a Karelian pavilion, an Armenian pavilion, a Georgian pavilion, a Buryat pavilion, and many others. The center now houses all sorts of exhibitions – on the schedule I saw, there was a teen fashion show and a home and garden show coming up – and it's also generally a good place to walk (or rent rollerblades), eat at outdoor cafes, do a little shopping (at least a few of the pavilions now have stores in them), ride carnival rides, and enjoy the sights. The pictures really explain it better than I can.
First, here's the entrance. Notice the crowning glory: members of the victorious proletariat holding up a sheaf of wheat from the Soviet Union's bounteous fields. Hooray!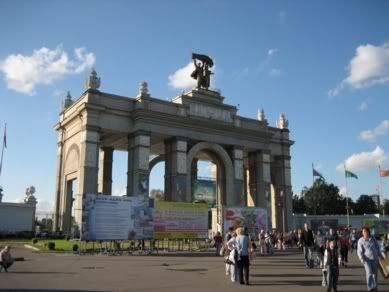 Second (although actually this is before the entrance), a monument to Soviet aerospace achievements. It's really tall and shiny. At the bottom, there's a mural of all the people – from signal operators to engineers to astronauts to Lenin – who made space flight possible. There's also a lot of grafitti. I guess not everyone's into aerospace achievements.
I don't know who this guy is, but he seems to be enjoying the view.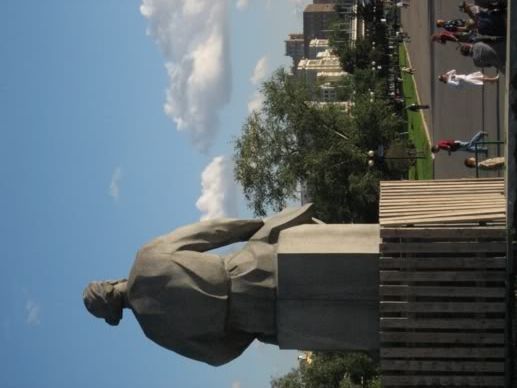 This is the golden fountain of women of different nationalities (all in traditional garb).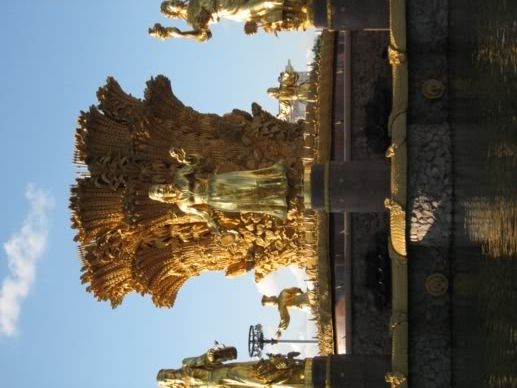 Look, ma, I'm a pilot! There was an old Aeroflot plane there that you could go in and explore. You could even walk out on the wings. My comrades (who were lucky enough to not have to fly to their host cities like I did) made a lot of jokes about how it was the only time you'd catch them on a Russian domestic carrier, how it was probably the safest plane in Russia, etc. Har har.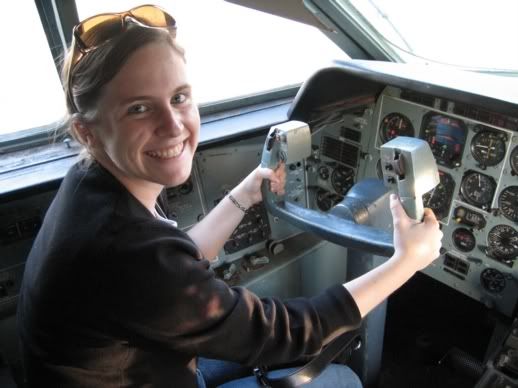 There was also a rocket ship! You weren't supposed to explore this one, but one member of our group who shall remain nameless scaled the support beams and explored it anyway, with a group of young Russian dudes. Then the cops drove by and we had to lay low. Then we met a Russian guy, and we all went on the Ferris wheel. The view there was nice, but unfortunately the glare on the windows prevented good pictures.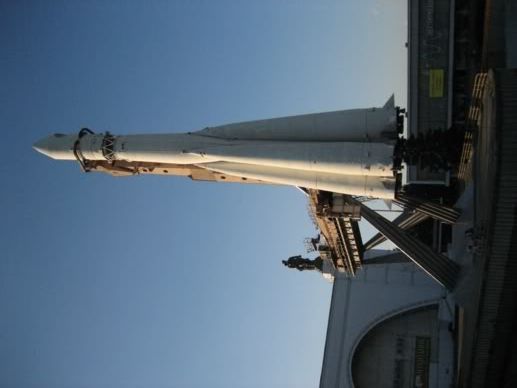 Obligatory 'art photo' - A rocket, a plane, a bike.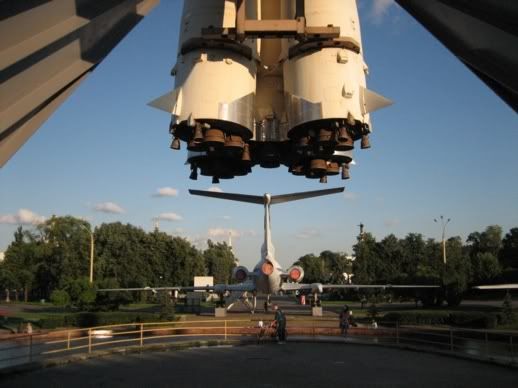 One last picture: some army guys feeding the pigeons outside the Cathedral of Christ the Savior. It would have been even better if the shot had included the monk who was also photographing the soldiers. But maybe it's for the better – he probably would have yelled at me.